18 Nov 2022
Goldilocks (smaller families)
This 1200+ sq. ft. cabin is not too big or too small to accommodate your family this holiday season - it is just right! Perfect for Mama Bear, Papa Bear, and Baby Bears, Goldilocks sleeps up to 6 people and is pet friendly as well! Big Bear Cool Cabins invites you to get swept away by the charm of this adorably cozy cabin located in Moonridge near the Alpine Zoo. Relax in the hot tub while you await the delicious family feast, or cozy up near the wood-burning fireplace after dinner. Fully equipped with fast WiFi, Smart TV's, washer/dryer, and a BBQ on the back deck. Goldilocks' beautiful full kitchen has everything you need to prepare a wonderful Thanksgiving dinner, as well as a beautiful dining table to serve it upon. Book this holiday getaway with us today!
Pond View (medium families)
 Pond View cabin offers the perfect choice for a medium-sized family looking to getaway for Turkey Day. Accommodating up to 8 people and being pet friendly, everyone is welcome! This 1800+ sq. ft. cabin has everything you need for a successful family gathering this holiday season! Located within walking distance to the slopes, this gorgeous getaway has forest views, ambient outside lighting, and a beautiful deck to relax on with a BBQ, foosball table, and plenty of seating for your guests. The wood burning fireplace offers a cozy retreat, and unwinding in the hot tub is the epitome of relaxation while on holiday vacation! Speedy WiFi and Smart TV's are great for entertainment and the washer/dryer are so convenient. Pond View's adorable full kitchen has lots of counter space to work with as you prepare your Thanksgiving feast, as well as a dining table with plenty of seating to accommodate your family and friends. Make a reservation today before this wonderful cabin gets booked!
Summit Shooting Stars (larger families)
 Summit Shooting Stars is a great choice for larger families - it includes 2 luxurious 1600+ sq. ft. units that together sleep up to 16 people and their fur babies, too! A close walk to Snow Summit, these cabins are nestled next to one another to make mingling with family and friends during your stay a breeze. With a total of 6 bedrooms and 8 bathrooms, everyone will be content with these spacious units. Summit Shooting Stars 1 and 2 each have a hot tub, fireplace, foosball and ping pong table, fast WiFi, Smart TV's, deck with gas BBQ, and washer/dryer. Their full-sized kitchens are guaranteed to be the perfect spot to whip up your famous holiday dishes, with plenty of seating for dinner time. Visit our website to book these two lovely cabins together for your holiday getaway!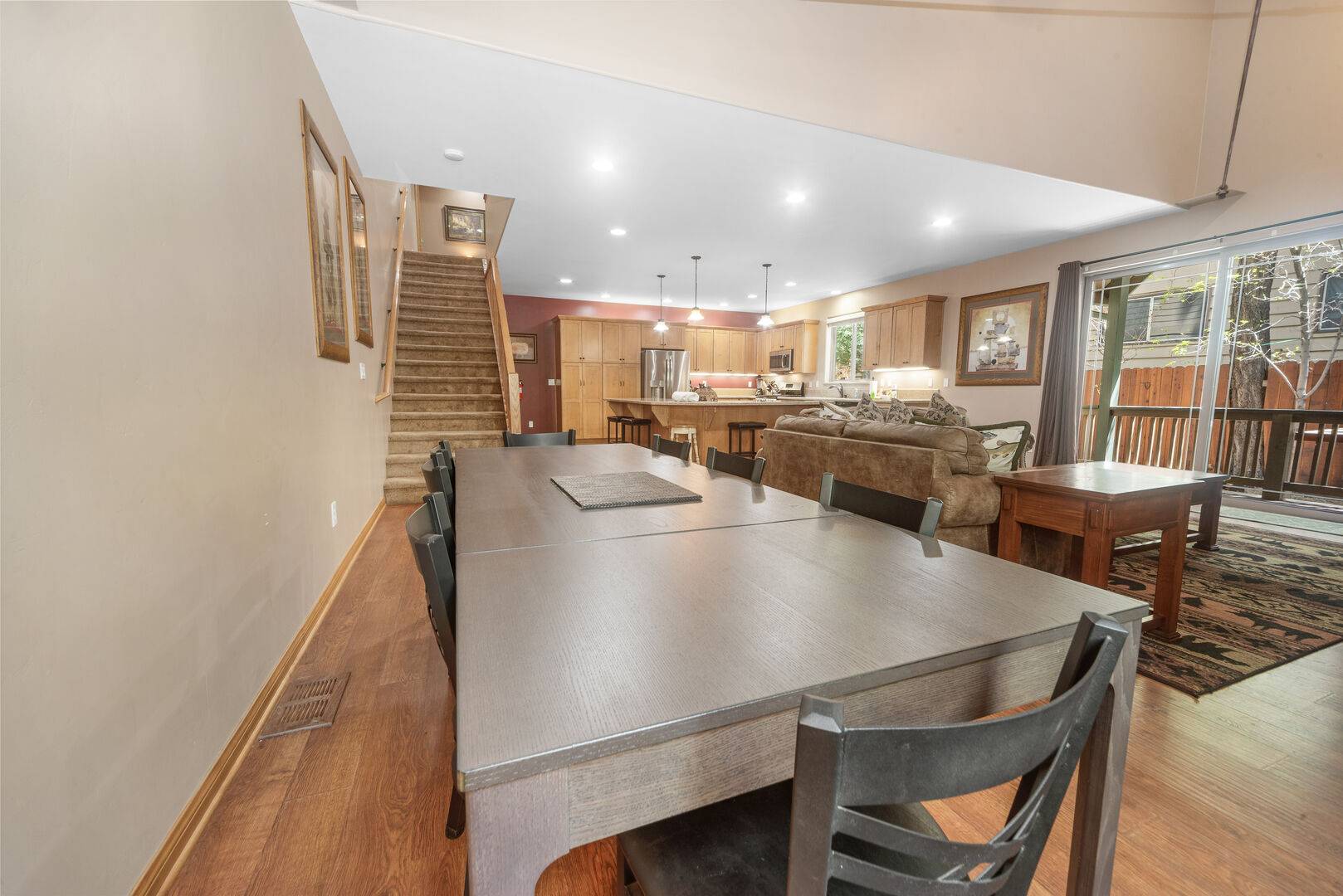 If you would like assistance picking the perfect home for your holiday getaway, we encourage you to give us a call at 800-550-8779. Any member of our team would be delighted to help you. Great vacations start here!